At Mercer Island Oral & Maxillofacial Surgery, our goal is to provide high-quality care to patients from the local community of Bellevue, WA. Whether you are struggling with jaw pain, tooth loss, or wisdom teeth that require removal, you will find friendly and knowledgeable care at our practice.
We are known for maintaining high standards of excellence and prioritizing patient comfort and safety at all times. We look forward to seeing you and learning more about how we can address your oral health needs.
Meet Your Oral Surgeon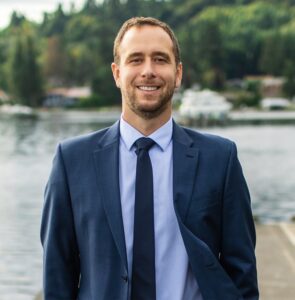 Dr. Matthew Streelman is a board-certified oral surgeon proudly serving patients who live in the Bellevue, WA area. With degrees in dentistry as well as medicine, Dr. Streelman is uniquely qualified to safely and comfortably perform complicated oral surgical procedures, helping restore patients to full functionality and aesthetics. A few of his areas of focus include wisdom teeth extraction, dental implants, and corrective jaw surgery. Dr. Streelman is thrilled to live and serve in the PNW region.
Our Oral Surgery Services
Dental Implants
When you lose your teeth, you not only lose your beautiful, confident smile, but you may also lose bone mass, contributing to unwanted facial changes and health consequences. Dental implants are the gold standard for tooth restoration, providing you with a functional smile and stimulating bone growth. They have an extremely high rate of success, and with the right hygiene, they can last a lifetime. Dr. Streelman is pleased to perform dental implant services for his patients from Bellevue, WA.
Wisdom Teeth
Most people's wisdom teeth begin to erupt in their late teens or their early 20s. These teeth often lead to oral health complications, including crowding or persistent pain. Wisdom teeth can also become impacted, meaning they remain submerged below the gum tissue. Often, the best way to address wisdom teeth is to have them taken out. At our practice, we will keep you comfortable and out of pain as we quickly and safely extract your wisdom teeth, allowing you to avoid any long-term oral health complications.
All-on-4® Dental Implants
Some patients come to Dr. Streelman suffering from extensive tooth loss. Or, they have a number of teeth that are no longer viable and require extraction. We are happy to provide full-mouth restoration with the All-on-4 treatment concept. All-on-4 dental implant treatment is a popular method of dental implants, replacing an entire arch or even a full set of teeth with as little as four total implants strategically placed around the mouth. This helps cut down on surgical time and expense, and it can make the recovery period less strenuous. We are happy to be an All-on-4 provider serving the Bellevue, WA area.
Bone Grafting
Some patients from Redmond, WA come to us experiencing inadequate bone mass, which can lead to a host of other dental problems. Dr. Streelman has ample experience in addressing this common issue using a procedure known as a bone graft. Bone grafting is also used to prepare the jaw for dental implants.
Tooth Extractions
As an oral surgeon, Dr. Streelman's goal is to keep your original teeth as healthy as possible as long as possible. Unfortunately, in some cases, tooth extractions are necessary to relieve discomfort and protect the other teeth in your smile. Dr. Streelman removes unhealthy teeth from the smile to help your smile stay healthy. If tooth extractions are done as a part of dental implant placement, then the dental implants might be able to be placed in the same appointment as the tooth extraction.
Oral Pathology
Through a complete examination of your mouth, teeth, tongue, and gums, our providers can help identify a number of potential problems. From there, we can develop a treatment plan or, if necessary, recommend you to the necessary specialists. Some conditions that can be treated by an oral surgeon include mouth cancers, mouth ulcers, and other jaw problems.
Facial Trauma Reconstruction
Nobody ever plans for a traumatic event to occur. It can happen, though, for a variety of reasons. At Mercer Island Oral and Maxillofacial Surgery, we are always here to help patients recover from these traumatic incidents. Dr. Streelman will assess the damage using in-office imaging and physical exams. He will then formulate and recommend a treatment plan.
Impacted Canines
Sometimes, the canine teeth do not erupt through the gums in the way they are supposed to and become submerged in the gum tissue, or impacted. Impacted canines are most often treated during the teenage years. No matter your age, however, if you are looking for impacted canine treatment near Redmond, WA, we invite you to contact our practice.
Anesthesia & Sedation Options
We understand that many of our patients have never had oral surgery before and are naturally anxious about the experience. Please rest assured that we do everything in our power to prioritize patient comfort while also ensuring patient safety. Dr. Streelman, provides several sedation options for our patients, allowing them to have their procedure completed in the most comfortable way possible.
Corrective Jaw Surgery
There are several reasons why patients might need corrective jaw surgery. Sometimes the jaw has become damaged due to a traumatic accident. In other instances, it is a defect present since birth. Still, other patients require corrective jaw surgery to alleviate the pain associated with TMJ disorders. No matter the cause of your problem, you will find friendly and knowledgeable care at Mercer Island Oral & Maxillofacial Surgery. Our own Dr. Streelman has much experience performing surgical procedures of many types, including jaw surgeries that can restore comfort and function.
Schedule your Oral Surgery Consultation Today
Dr. Streelman and his team at Mercer Island Oral & Maxillofacial Surgery gladly welcome our neighbors from Bellevue, WA to try our oral surgical care. We are committed to providing safe, comfortable, and effective oral surgery services for all patients. Call us at (206) 690-5417 or use our online contact form to find out more about our oral surgery offerings near Bellevue.