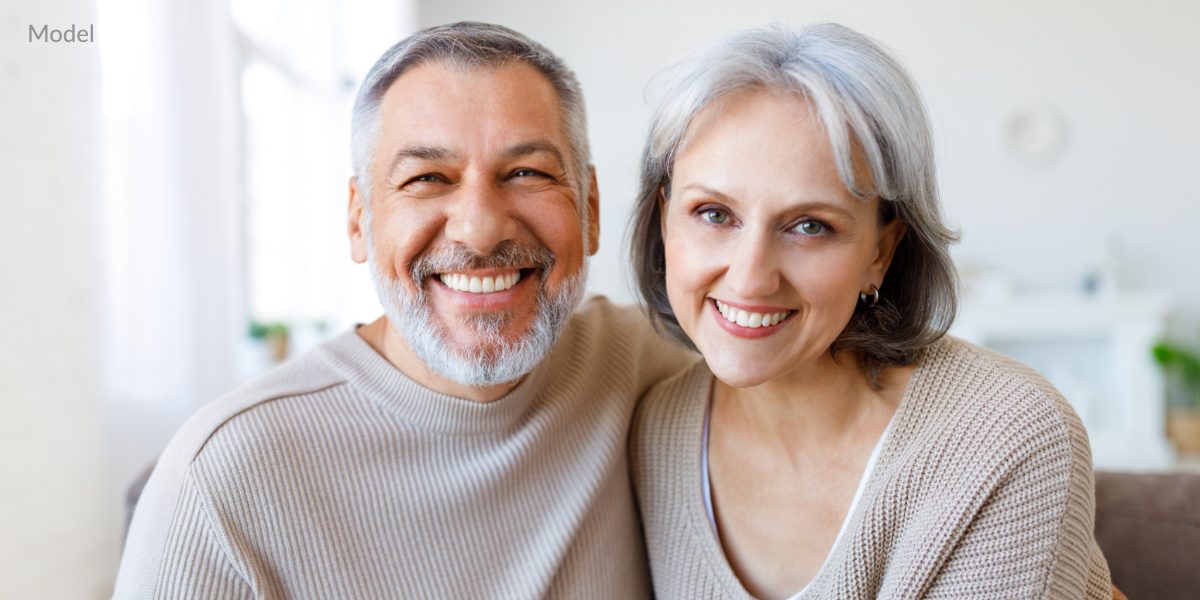 Your tooth has two parts: the root, which is embedded in your jawbone, and the crown, which is the part of your tooth that is visible. When you lose a tooth or have a tooth extracted, the bone that previously surrounded it may begin to reabsorb or deteriorate. Dental implants provide you with artificial tooth roots, which can not only stimulate bone growth but also provide a stable anchor for prosthetic teeth. Mercer Island Oral & Maxillofacial Surgery helps patients from Bellevue, WA restore their lost teeth with dental implants.
Why are Dental Implants the Preferred Method of Tooth Replacement?
Dental implants have become the gold standard for tooth replacement for the following reasons:
Benefits of Dental Implants
While dental implants are not the only method for tooth replacement, they do offer several unique benefits to the Bellevue, WA community.
Designed to Last a Lifetime
There is no tooth-replacement method that compares with dental implants in terms of long-term success rate. Documented clinical research shows that implants succeed around 95 percent of the time, a much better track record than dentures or bridges. With the right hygiene and care, you may never need to replace your implants.
Preserves Bone and Facial Structures
One of the most significant consequences of missing teeth is bone deterioration. Without the stimulus of a tooth root, your jawbone may reabsorb, which can ultimately lead to unwanted changes in your facial appearance and dire oral health complications. Dental implants provide the stimulation required to maintain healthy bone mass in your jaw.
A Healthier Smile
Alternative tooth replacement methods, such as dentures and bridges, can actually damage surrounding teeth over time. These methods typically require healthy adjacent teeth to be cut down or loosened. With dental implants, you do not have to compromise the integrity of your healthy, natural teeth.
Natural Appearance
Dental implants are tailored to replicate the natural appearance of your smile. Your dental implants will be precisely placed to recreate your natural ones, and your dental prostheses will be customized to ensure a seamless look.
How Do Dental Implants Compare to Other Options?
Are Dental Implants Right For Me?
Though dental implants are the gold standard for tooth replacement, patients at Mercer Island Oral & Maxillofacial Surgery still have to meet some conditions to receive them. Some of the requirements of dental implants include:
In your consultation at Mercer Island Oral & Maxillofacial Surgery, you and Dr. Streelman can discuss these requirements and determine whether dental implants will be the right option for you.
How Will My Surgeon Determine Whether I am a Candidate for Dental Implants?
In order to ensure that you are qualified for a safe and successful procedure, your oral surgeon will need to perform a surgical evaluation. During this consultation, Dr. Matthew Streelman will evaluate you using the following criteria:
In addition to a physical examination, also expect your surgeon to perform imaging using advanced scanning technology.
How are Dental Implants Placed and Restored?
Once Dr. Streelman has qualified you for surgery and developed your treatment plan, you will be ready to schedule your procedure at Mercer Island Oral & Maxillofacial Surgery, located conveniently near Bellevue, WA. Before you can have implants placed, you may need to have your existing tooth removed, or you may need a bone graft to ensure adequate bone mass. Afterward, the steps in the dental implant process include:
Implant Placement
Your surgeon will administer anesthesia, ensuring your comfort throughout the surgery. Your implant, a small titanium screw, will be gently yet securely positioned in your jaw. Once the implant is in place, a temporary replacement tooth will be attached on top.
Abutment Attachment
The bone will need some time to fuse around your implant, holding it securely in place. This may take multiple months. Once your implant has healed, you will have a follow-up appointment during which Dr. Streelman will place a connective piece, known as the abutment.
Replacement Teeth
You will visit your normal dentist for the creation and placement of replacement teeth, which will securely attach to the abutment piece and allow you to enjoy a fully restored, natural-looking smile.
Why Choose Dr. Streelman?
Dr. Matthew Streelman is committed to friendly, personalized care as well as patient education. He and his team have years of experience performing dental implant procedures for patients throughout the Bellevue, WA area. Schedule an appointment with Dr. Streelman by contacting Mercer Island Oral and Maxillofacial Surgery online at (206) 690-5417.