Mercer Island Oral & Maxillofacial Surgery is a trusted provider of oral surgery solutions near Redmond, WA. Our practice is known for a commitment to clinical precision in procedures such as dental implants or corrective jaw surgery. We also have a great reputation for friendly service, considerable experience, and a warm, welcoming practice environment. Our goal is to ensure that you get the high-level care you require and that your experience with us is as positive as possible.
We invite you to learn more about our in-house surgeon and some of our most common treatment options.
Meet Your Oral Surgeon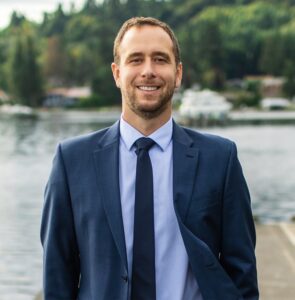 Dr. Matthew Streelman is a board-certified oral surgeon who proudly lives and works on Mercer Island, serving patients from Redmond, WA and beyond. With degrees in dentistry and medicine, Dr. Streelman is uniquely qualified to safely and comfortably perform complicated oral surgical procedures. His areas of clinical focus encompass wisdom teeth extraction, dental implants, corrective jaw surgery, and more. Dr. Streelman is happy to live and serve in the PNW region.