At Mercer Island Oral & Maxillofacial Surgery, we are pleased to provide high standards of oral care to patients from Newcastle, WA. Our practice has a reputation for always promoting patient comfort and safety, no matter the procedure in question. We are also known for excellent outcomes with dental implants, complex jaw surgeries, and other oral surgery procedures.
As you seek optimal oral health solutions near Newcastle, we invite you to keep our practice in mind. Here you will receive knowledgeable care in a friendly, welcoming environment.
Meet Your Oral Surgeon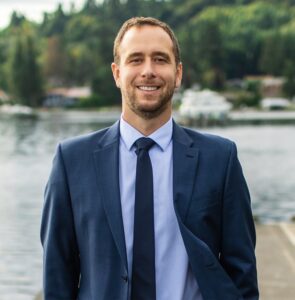 Dr. Matthew Streelman is an oral surgeon who treats patients in and around Mercer Island, including the Newcastle, WA area. With degrees in both dentistry and medicine, Dr. Streelman is uniquely qualified to perform highly complex oral surgical procedures, restoring patients to normal function and aesthetics. Some of his areas of clinical focus include wisdom teeth extraction, dental implants, corrective jaw surgery, and All-on-4. He lives with his wife and three daughters, and together they love exploring the PNW region.