Mercer Island Oral & Maxillofacial Surgery is a leading provider of oral healthcare serving the Kirkland, WA community. Our services include dental implants, All-on-4, and other treatments to help patients address the effects of tooth loss. Additionally, we provide corrective jaw surgery to restore both form and function, and we perform safe and expedient wisdom teeth removals.
Our practice is known for a commitment to clinical precision and always seeking the best outcomes on behalf of our patients. We are equally passionate about keeping patients safe and comfortable, no matter the type of procedure they seek. And we hope to provide you with a positive patient experience, including everything from convenient parking and friendly staff to a warm, welcoming office environment.
Meet Your Oral Surgeon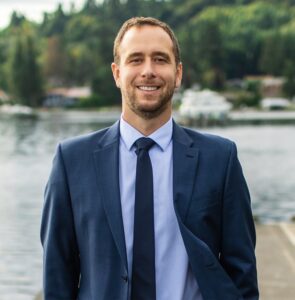 Dr. Matthew Streelman lives with his wife and three daughters in the Mercer Island community, and provides oral health services to patients from Kirkland, WA. With degrees in dentistry and medicine, Dr. Streelman is uniquely qualified to perform complicated oral surgical procedures. His practice focuses on dental implants and All-on-4, as well as corrective jaw surgery, wisdom teeth removal, and more. He loves exploring the PNW region.