March 8, 2023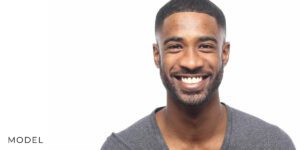 Corrective jaw surgery is a reconstructive procedure that fixes issues with the alignment of your jaw. 
When your jaw is misaligned, your smile may appear crooked, but there are potentially far worse problems brewing under the surface. Misaligned jaw bones can contribute to a host of health issues affecting how you eat, how you sleep, and the overall health and longevity of your teeth.
If you need or suspect you may need corrective jaw surgery, you may be worried about whether it will hurt. In this post, we help you understand how corrective jaw surgery works and what you can expect from the procedure.
What Is Corrective Jaw Surgery?
Corrective jaw surgery realigns your teeth and jaw by correcting irregularities in your jaw bones. This type of surgery has both cosmetic and medical purposes. Cosmetically, this surgery may improve the appearance of your smile or repair birth defects or the effects of facial injury.
Medically, corrective jaw surgery can:
Facilitate easier biting and chewing while improving chewing mechanisms overall

Fix problems with speech and swallowing

Ease the breakdown of your teeth by minimizing excessive wear

Correct issues with jaw closure and bite, like open bite, crossbite, overbite, etc.

Relieve pain from TMJ or other jaw disorders

Improve sleep hygiene by providing relief for causes of sleep apnea
Dentists and orthodontists try to correct patient issues with the jaw through orthodontics alone. However, in some cases, braces simply are not effective. In these cases, you will likely be referred to an oral and maxillofacial surgeon like Dr. Streelman.
What to Expect
During your corrective jaw surgery with Mercer Island Oral & Maxillofacial Surgery near Bellevue, we prioritize the comfort and care of our patients. It's natural for you to feel anxious about reconstructive surgery, but our goal is to make this process as easy as possible for you.
Before your corrective jaw surgery, you will consult with Dr. Streelman, who prepares you for both your surgery and the recovery process. During your consultation, you will also be provided with a list of resources and instructions on the recovery process so you can have as quick and successful a recovery as possible.
During surgery, Dr. Streelman repositions your jaw through small cuts in your bone. Yes, your nerves and muscles will recognize this as an unnatural change, but because you are sedated, you will not feel any of this discomfort.
Learn More About Corrective Jaw Surgery
Pain is not merely a physical sensation — it's a mental and emotional one as well. One of the best things you can do to preemptively alleviate discomfort prior to your corrective jaw surgery is to learn as much about it as possible, so you feel mentally prepared.
At Mercer Island Oral & Maxillofacial Surgery in Bellevue, we have plenty of resources available for you to learn about .